Dressing changes - how to prevent infection in chronic wound care
Chronic wounds are those that do not progress through a normal, orderly, and timely sequence of repair.1 About 2 – 6% of the worldwide population require wound care for chronic wounds.2 Personal protective equipment, good waste management, comprehensive documentation, and management of the patient environment are all basic components of infection prevention in chronic wound care. A properly conducted dressing change, including an aseptic technique, is important to avoid cross contamination and spreading microbes between patients.3 The following instructions aim to protect your patients, their relatives, and yourself.
Call to action
Appropriate wound management can contribute to better healing rates, fewer antibiotic prescriptions, improved quality of life and wellbeing for patients, and significant cost savings.4
Preparations [3]
Consider the following basic recommendations before each dressing change:
Inform your patient about the upcoming dressing change. Consider pain medication before you get started.
Use personal protective equipment such as a protective coat, face mask and eye protection, if needed.
Disinfect a clean, flat, and non-porous work area for your equipment.
Prepare all required equipment. Keep sterile material away from the patient, and place non-sterile material close to the patient.
Avoid unnecessary interference, such as uninvolved people or pets. Close windows and doors to avoid cross contamination.
Ensure that your patient is comfortable, the wound is easily accessible, and the lighting conditions are good.
Consider the following steps when performing hand hygiene4. The duration of the entire procedure is 20-30 seconds.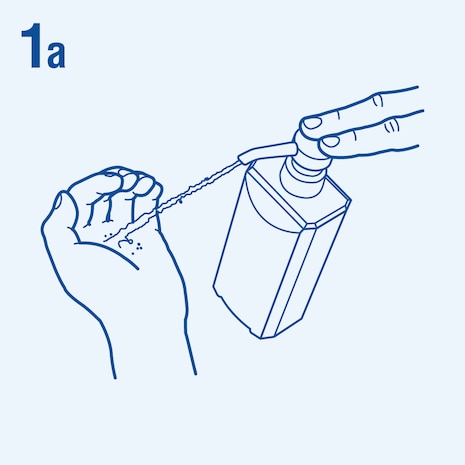 Apply a palmful of the product in a cupped hand, covering all surfaces;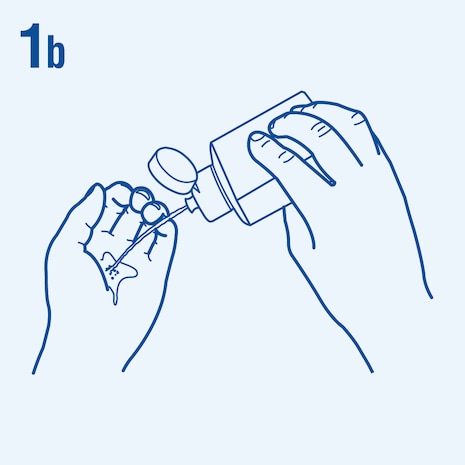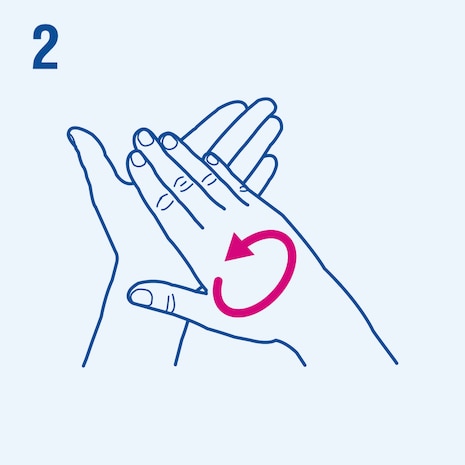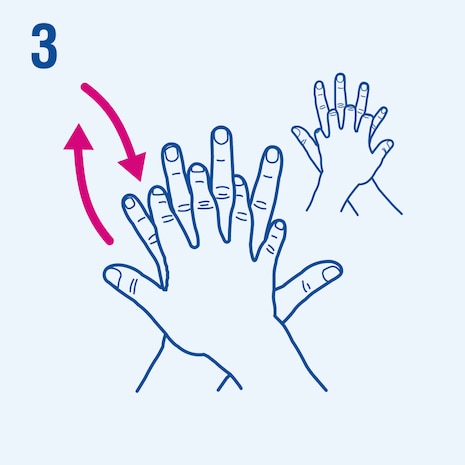 Right palm over left dorsum with interlaced fingers and vice versa;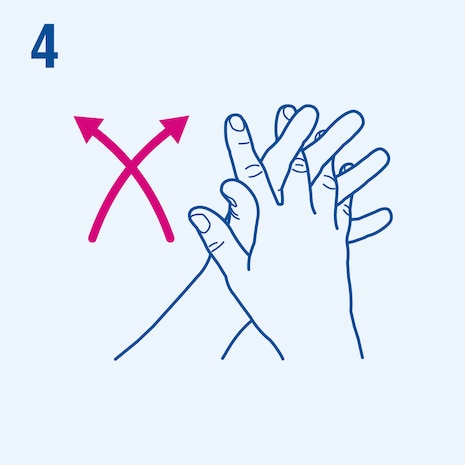 Palm to palm with fingers interlaced;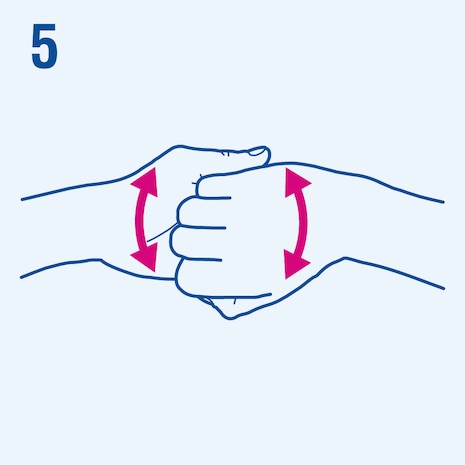 Backs of fingers to opposing palms with fingers interlocked;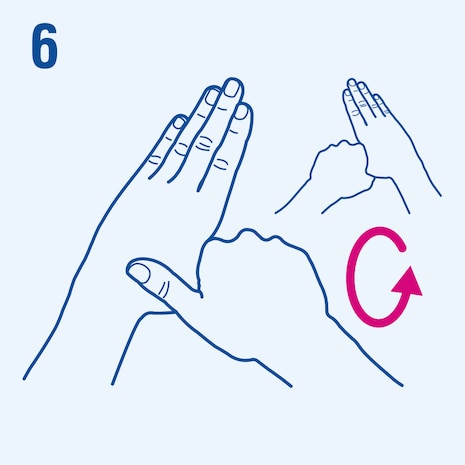 Rotational rubbing of left thumb clasped in right palm and vice versa;
Rotational rubbing, backwards and forwards with clasped fingers of right hands in left palm and vice versa;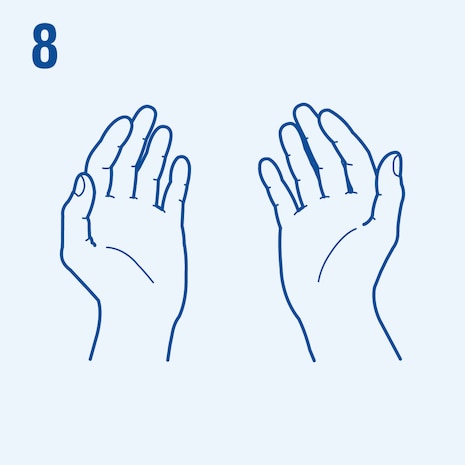 Once dry, your hands are safe.
This image is adapted from the World Health Organization (WHO), Hand Hygiene Technical Reference Manual (2009) [5].
Clean / standard technique
Sterile / surgical technique
Smaller wound
Extensive wound
Simple and short dressing change (< 20 minutes)
Complex and longer dressing change (> 20 minutes)
Patient is not immuno-compromised
Patient is immuno-compromised
Palliative or maintenance care
Wound penetrates sterile body cavity or materials are inserted into a sinus or cavity where the wound base not visible
Clean your hand with alcohol-based sanitiser or skin cleanser
and running water
Clean your hand with alcohol-based sanitiser or skin cleanser and
running water
Wear non-sterile or sterile gloves
Wear sterile gloves
Use clean equipment, a basic dressing tray, and potable water
(or sterile fluid)
Perform the dressing change in a sterile field with sterile equipment, including sterile cleansing solutions
Use clean or sterile, single-use wound dressing products
Use sterile, single-use wound dressing products
EXTRA TIP:
Treat patients with non-infected wounds first before treating patients with infected wounds.
The aseptic dressing change [3]
Before each dressing change, assess your patient's comorbidities, wounds, skin, and environment to identify factors that might impact wound healing. A comprehensive review of these factors will guide you if changes to the wound care plan are required. Depending on the technique (clean or sterile) consider the following steps for the dressing change:
For the sterile technique use sterile cleansing solutions, sterile dressing packs and use sterile gloves.
Disinfect the surface and perform hand hygiene.
Gently remove the current dressing with non-sterile gloves.
Remove gloves and perform hand hygiene.
Choose and open the right dressing (non-sterile or sterile) and put on non-sterile or sterile (if required) gloves.
Clean the wound and peri-wound area. Cleanse aseptic wounds from the inside out and septic wounds from the outside in.
Discard your gloves and perform hand hygiene.
Carry out a full holistic wound assessment.
If your wound assessment indicates the need for debridement, put on new gloves to debride all devitalised and necrotic tissue for an optimised wound environment. Consider using a debridement pad, such as Cutimed® DebriClean, if applicable. * Cleanse the wound again to remove the remaining debris.
Discard the gloves, perform hand hygiene and put on new gloves.
Apply protection to the wound margins, if required.
Apply prescribed dressing as per wound assessment and manufacturer instructions.
EXTRA TIP:
Packaging of the dressing material can be used as a sterile storage space.
Complete the dressing change [3]
Dispose infectious waste and sharps appropriately.
Document the wound assessment (including colour, odour, exudate, etc.), measurements and the procedures performed.
Perform final hand hygiene.
Recognising infected wounds
According to the wound infection continuum (framework to visualise the impact that microorganisms have on the host, the wound and on wound healing), a wound passes different conceptual stages until it is considered an infected wound3:

Microbial organisms are detectable but do not proliferate and do not evoke a host response.

Microbial organisms proliferate but do not evoke a significant host response.

Microbial organisms proliferate and evoke a host response and often includes a delay in wound healing.
Subtle signs of local infection:
Excessive vascular tissue (hypergranulation)
Bleeding, friable granulation
Epithelial bridging and pocketing in granulation tissue
Increasing exudate
Delayed wound healing
Classic signs of local infection:
Superficial reddening (erythema)
Local warmth
Swelling
Wound breakdown and enlargement
New or increasing pain
Increasing malodour
The above symptoms may be masked in people with compromised immune systems and/or poor vascular perfusion. Infection must be identified early by investigating signs and symptoms that do not rely on 'redness' 6

Infective organisms spread from the wound to the surrounding tissue. Signs of spreading infection are:
Extending induration
Spreading erythema
Lymphangitis
Crepitus
Wound breakdown/dehiscence with or without satellite lesions
Inflammation, swelling of lymph glands

Infective organisms spread via the lymphatic or vascular system and evoke a systemic reaction, resulting in sepsis and organ dysfunction. Systemic infection can lead to:
Malaise
Lethargy or nonspecific general deterioration
Loss of appetite
Fever
Severe sepsis
Septic shock
Organ failure
Death
Suspected spreading and systemic infections seek urgent medical attention. Usually, a swab will be taken according to medical recommendations and a suitable wound irrigation solution will be applied if needed. Antibiotic therapy is indicated and should be started immediately and adapted while waiting for the culture results.7
Continuous, accurate, holistic assessment of the individual and their wound is essential for effective wound treatment.3
Dressings with an antimicrobial effect can be used to support infection management. Consider wound dressings with Sorbact® Technology, such as Cutimed® Sorbact®7:
These dressings offer an alternative approach when managing chronic wounds with increasing bacterial load. Their physical mode of action is clinically proven to reduce bioburden and bacterial or fungal resistance is not expected.
Cutimed® Sorbact® is a DACC™-coated wound dressing. Bacteria and fungi are irreversibly bound, growth is inhibited and they are safely removed. Cutimed® Sorbact® also binds endotoxins that may impair wound healing.
These dressings can be used for infection management on contaminated, colonised or infected wounds, but can also be used prophylactically on clean wounds.
Cutimed® Sorbact® is suitable for any kind of wound at all stages and can be used for a prolonged period of time.*
The use of antimicrobial wound dressings with active ingredients, such as silver, should be reviewed after 2 weeks. After this period, the effectiveness should be evaluated, and the treatment approach should be adapted, if necessary.8
Disclaimer
*This article is intended to be used as an information guide to be considered when the organisation makes clinical decisions and does not constitute medical advice. For detailed device information, including indications for use, contraindications, effects, precautions, and warnings, please consult the product's Instructions for Use (IFU) before use. In case of doubt, please consult a healthcare professional.
References
Bowers S & Franco E. Chronic Wounds: Evaluation and Management. Am Fam Physician. 2020; 101(3):159-166.
Järbrink K, et al. The humanistic and economic burden of chronic wounds: a protocol for a systematic review. Syst Rev. 2017;6(1):15.
International Wound Infection Institute (IWII) Wound infection in clinical practice. Wounds International. 2022.
Murphy C, et al. International consensus document. Defying hard-to-heal wounds with an early antibiofilm intervention strategy: wound hygiene. J Wound Care. 2020; 29(Suppl 3b):S1–28.
World Health Organization (WHO). Hand Hygiene Technical Reference Manual. WHO. 2009; accessed on November 4, 2022. Read more
Wounds UK (2021) Best Practice Statement: Addressing skin tone​ bias in wound care: assessing signs and symptoms in people with dark skin tones. Wounds UK, London.​ Available to download from: www.wounds-uk.com​
Best Practice Statement: Antimicrobial stewardship strategies for wound management. Wounds UK, London. 2020.
International consensus. Appropriate use of silver dressings in wounds. An expert working group consensus. London: Wounds International. 2012.